FANTIC E-SCOOTER TX2 BLACK 500W
The TX2 electric scooter from Fantic is equipped with two motors for a total of 500W of power. Performance, class and safety, these are the must-haves that represent the TX2.
STOCK: Matt Black(Delivered in two weeks), White(Delivered in two weeks), Metallic Grey(In Stock) & Metallic Red (Delivered in two weeks)
Handy and light handlebar
The magnesium handlebar is extremely handy and light. The cockpit has a large, colourful and easy-to-read display. From the display you can view speed, battery level, mileage and activate the lights. On the right-hand side is the throttle lever and the button for selecting the three modes. On the left is the electronic brake lever and the horn button. Fingerprints can also be recorded via the cockpit to prevent misuse of the scooter.
Wide footboard for maximum comfort
The wide footboard is covered in silicone for maximum comfort and grip. The grips, also made of silicone, complete the ergonomic lines of the product.
The electric scooter is easily foldable by pressing the two buttons located in the steel hinge. This system makes the scooter compact and portable.
Two 250W motors for maximum power
The TX2 is equipped with two 250W motors on both wheels for a total of 500W. The motors are made with neodymium magnets and have a monitoring system to prevent overheating. The system is powered by a 369 Wh electric battery, guaranteeing a range of about 25 km.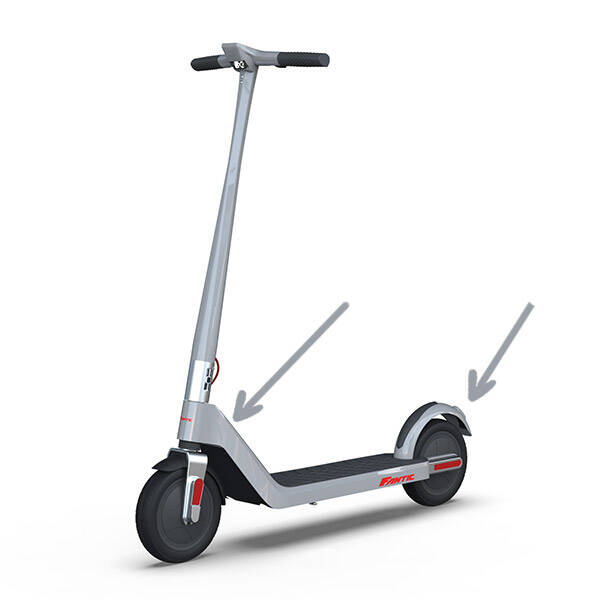 The 8.5″ wheels are airless, protecting them from punctures and providing exceptional grip. The 3cm front suspension offers stability, safety and precision in all terrain conditions.
Motor: Dual motor 500WMaximum
Speed: 25 km/h
Battery: 369 Wh
Autonomy: 25Km
Maximum rate: 17%
Weight: 13,9 Kg
Maximum load: 100 Kg
Wheels: 8,5", airless
Folding sizes: 1101 x 180 x 480 mm
Charging time: 5 hours